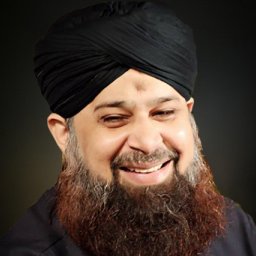 Muhammad Owais Raza Qadri Attari - Naat Khawan
Also known as: Owais Qadri . 39 Audios . 340,187 Profile Views
Owais Raza Qadri was born on July 8, 1970 at Metha Dar Karachi. Owais Raza Qadri started reciting naat e Rasool e Maqbool (Sallallahu Alayhi Wasallam) at the age of 8. His father was a businessman. He has two brothers and five sisters. His father died in a road accident when Owais Raza was just 10 year old.
Allah G has gifted him with great voice and ability to move the listener's heart. Owias Raza's first Naat album was released in 1983.
---
---
Biography - Owais Qadri
He passed Metric from KM Academy in 1986 and did FA in 1988.
Mr. Owais Raza Qadri got married in 1994. He performed his first Umra in 1992 and went for Hajj in 1996. Owais Raza is fond of reading books in spare time. His favorite color is White and favorite food is BBQ. His favorite dress is Shalwar Qameez. He calls her wife Irum instead of her real name. Allah G has blessed the couple with 2 Girls and 2 Boys.
Sind Govt has awarded Mr. Owais Raza Qadri for his contributions in the field of Naat Khawani.
We wish him best of luck for his future plans and we hope he will keep on enlightening the hearts with his magical voice and passion for Naat Khawani.
Photo Gallery - Owais Qadri
Muhammad Owais Raza Qadri in a Naat Mehfil
Muhammad Owais Raza Qadri in a Naat Mehfil