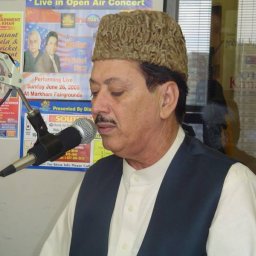 Qari Waheed Zafar Qasmi
Also known as: Waheed Zafar . 44 Audios . 101,003 Profile Views
Qari Waheed Zafar is most popular and well-known Sana-Khawan e Mustufa (P.B.U.H). Qari Waheed Zafar has won many national and international awards. He has released many albums. His Famous Albums are Saba E Madina, Panjh Surah, Saba-e-Madina, Bahar e madina and Madinay Ke Gali. Below are selected compilation of his famous Naats.
---
Biography - Waheed Zafar
Qari Waheed Zafar Qasmi was born in 1962 in Pakistan. He has started reciting Quran-e-Majeed at the age of 7. He became Hafiz-e-Quran when he was just of 9 years old. He had learnt Quran-Majeed by heart. He has also learned Qirat and starting Naat Sharif as well.
National and International Awards
Qari Waheed Qasmi has won many national and international Awards. By the Grace of Allah Qari Sahab has won first competition in 1969 in Malaysia for Pakistan and thereafter in Libya in 1979. in 1980, he won a competition of Tilawat-e-Quran in Saudi Arabia. Again he won a competition on Syria. The honor for Durood-o-Salam inside the Roza-e-Rasool (PBUH) in 1987 is the most cherished event of his life
Career
Qari Sahab started his career in 1970 from Radio programs. His first program was "Sar Chashma-e-Hidayat". After that program he did many program in televisionas well as on radio. His first Naat which got very fame all over the world was "Allah Hu Allah Hu" on television. Later on he has recited many popular naats. Some of his famous naats are Qaseeda Burda, Faslon ko Takaluf, Zahe Muqadar and so on. We have unique and large collection of his naats. Many naat khawans like Umm-e-Habiba, Roshan Ara Samad, Javed Akhtar and Khalid Hussain are students of Waheed Zafar Qasmi Sahab.
Allah has gifted him so beautiful voice. May Allah pleased with him. Ameen. Listen and download mp3 naats recited by Waheed Zafar Qasmi.
Photo Gallery - Waheed Zafar