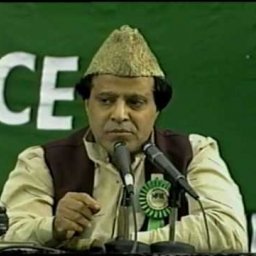 Muhammad Siddique Ismail
Also known as: Siddique Ismail . 25 Audios . 42,334 Profile Views
Alhaaj Siddique Ismail is a globally renowned Hamd and Naat Reciter of Pakistan. Mr Siddique Ismail belongs to respectable Memon community and is one of the most respect Hamd and Na`at reciters of Pakistan. He has served Television and Radio Pakistan for more than 50 years. Siddique Ismail is most popular naat khawan all over the world for his melodious voice and unique style of recitation. He was awarded by "Sitara-e-Imtiaz" by Government of Pakistan. Listed below are a large and unique collection of his famous Naats, more will be uploaded soon Inshaa Allah.
---
Biography - Siddique Ismail
Siddique Ismail born on February 10, 1954 in Karachi, Pakistan. After partition of British India His parents migrated from India to Pakistan in 1947. His career started at the age of six in a local mosque Masjid Badami Old Town, Karachi. At early age, he suffered from polio disease and became physically handicapped in his legs.
Career As Naat Khawan
Siddique Ismail started his career at the age of 9 years. In 1965 for first time he appeared in a Radio Pakistan Program named "Bachon ki Dunya". Later on 1969 Siddique Ismail recited naat on PTV Karachi center. He is a first Naat khawan of Television who recited Naat in maiden transmission.
He has performed more than hundred programs of PTV including Documentary of Holy Makkah and Madina Construction. PTV has telecasted Azan in his beautiful voice for many years. He has performed many program like Neelam Ghar, Haya Al-Falah, Kasauti etc.
Books
Siddique Ismail has also written books. In 1985 he has written Anwar-e-Harmain which contains his famous hamds and Naats. He has also complied a book named "Rang-e-Raza". This book contains famous hamd and naats written by family of Ahmed Raza Khan.
Awards and Achievements
Siddique Ismail was awarded Sitara-e-Imtiaz in 2012. He is also awarded by Pride of performance in 1985. He has also radio Pakistan 20 years melody excellence award.
Siddique Ismail has recited many famous naats but one of his most favorite naat is "Noori Mehfil pay Chadar tani Noor ki" has been very popular among all generation of people.
Siddique Ismail is living legend and King of Naat Khawani in Muslim world. He is a widely respected figure and is invited to most religious TV events and shows in Pakistan and abroad.
He has recited more than thousand Naats in different languages like urdu, persian, punjabi, Arabic, Sindhi, Pashto etc.
May Allah Bless him with Health and Prosperity. Ameen.
Siddique Ismail Interview with Imran Sheikh Attari.
Photo Gallery - Siddique Ismail
Siddique Ismail Interview
Siddique Ismail with Qari Waheed Zafar Qasmi
Siddique Ismail with Boxer Ali Khan Late
Siddique Ismail at Madina
Siddique Ismail with Saeed Hashmi at Madina