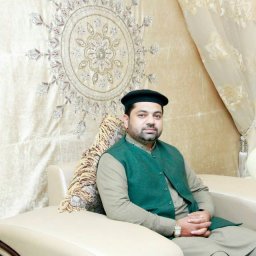 Sarwar Hussain Naqshbandi
Also known as: Sarwar Naqshbandi . 52 Audios . 95,376 Profile Views
Mr. Sarwar Hussain Naqshbandi has very sweet and magical voice with wonderful control. Studied from University of Management & Technology Lahore. Sarwar Hussain's sister Hina Nasr Ullah is also one of the best Naat Khawans of Pakistan. More Naat Audios from Sarwar Naqshbandi are being uploaded, InshaAllah.
---
Biography - Sarwar Naqshbandi
Sarwar Hussain Naqshbandi is very well known Naat khawan. He has fan following Nationally and internationally. He is also a Television Host as well as Television Anchor. He has released more than 50 Audio and Video Albums. He was inspired by his father so he started reciting Naats.
Sarwar Hussain Naqshbandi has studied from University of Management and Technology Lahore. He Won hundreds of national awards and has a huge fan following in Pakistan as well as globally. He has travelled to many countries for his Shows. And a lot of Naat Khawans follow him.
Photo Gallery - Sarwar Naqshbandi
Sarwar Hussain Naqshbandi in Madina
Sarwar Hussain with Manzoor ul Konain Shah in Naat Zindagi hai