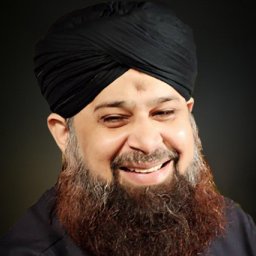 Muhammad Owais Raza Qadri Attari
Also known as: Owais Qadri . 107 Audios . 491,822 Profile Views
Owais Raza Qadri was born on July 8, 1970 at Metha Dar Karachi. Owais Raza Qadri started reciting naat e Rasool e Maqbool (Sallallahu Alayhi Wasallam) at the age of 8. His father was a businessman. He has two brothers and five sisters. His father died in a road accident when Owais Raza was just 10 year old.
Allah G has gifted him with great voice and ability to move the listener's heart. Owias Raza's first Naat album was released in 1983.
Details about Muhammad Owais Raza Qadri Attari:
Muhammad Owais Raza Qadri is the King of Naat Khawans around the globe and no doubt, the most heartedly loved and praised . He is known for his melodious voice and his own style for Praising the Holy Prophet( S.A.W)
There are hundreds of thousands of Owais Raza Qadri's fans around the GLOBE.
Owais Raza Qadri was born on July 8th, 1970 in Pakistan. He has done his intermediate . Allah has blessed him so much, as he has performed so many Hajj and UMRAAs. He is passionate about opening his own NAAT academy ( in Sha Allah very soon).
He started reciting NAATs when he was only 8. And his inspiration was AL Haaj Yousaf Ashrafi(late) who was a naat khwaan too. His first album was released in 1983, and after that there are numerous RELEASED.
Owais Raza Qadri was married in 1994 and has 4 childern: 2 daughters and 2 Sons. Owaus Qadri's services for NAATs is recently Praised by Government of Pakistan, so he was awarded The Best Naat Khawan title in 2007.
Other than Makkah and Madina, the country Pakistan is his most favorite. Among wearings, he likes Kurta-Shalwar the most. His dearest friend is Mohammad Shoiab Qadri. According to Owais Raza Qadri, the most memorable moment of his life has not arrived yet. His Inspiring personaaity is Ala Hazrat Mujadid-e-deen-O-milat Shah Ahmad Raza Khan Brelvi. Among dishes, his favorie is BBQ and favorite colors are white and black.
Owais Raza has visited to many countries to spread islam and message of Holy Prophet( S.A.W) which includes UAE, KSA, Malawi, Syria, India, S Africa, UK, Canada, KuwaIt , Iran, Iraq, Switzerland, Bangladesh, USA and China etc.
Muhammad Owais Raza Qadri always advises new NAAT KHAWANs that it is Ibadat and before reciting any NAAT, enough knowledge should be collected. They should be practical Muslims.
---
Biography - Owais Qadri
He passed Metric from KM Academy in 1986 and did FA in 1988.
Mr. Owais Raza Qadri got married in 1994. He performed his first Umra in 1992 and went for Hajj in 1996. Owais Raza is fond of reading books in spare time. His favorite color is White and favorite food is BBQ. His favorite dress is Shalwar Qameez. He calls her wife Irum instead of her real name. Allah G has blessed the couple with 2 Girls and 2 Boys.
Sind Govt has awarded Mr. Owais Raza Qadri for his contributions in the field of Naat Khawani.
We wish him best of luck for his future plans and we hope he will keep on enlightening the hearts with his magical voice and passion for Naat Khawani.
Photo Gallery - Owais Qadri
Muhammad Owais Raza Qadri in a Naat Mehfil
Muhammad Owais Raza Qadri in a Naat Mehfil