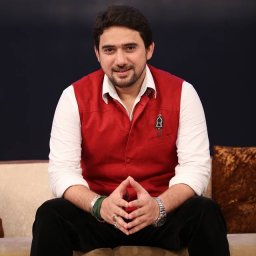 Farhan Ali Waris
Also known as: Farhan Ali . 2 Audios . 19,342 Profile Views
Farhan ali Waris is young graduated man started his career as naat khawan in 1995. He was born 4th October,1982 in karachi. His first album was "ALI WARIS". Farhan ali is popular of his Noha khuwani and Munaqbat and is awarded Sitara-e-Manaqabat Noha Khuwani in Hyderabad India. Farhan ali Waris has recited 300 tracks of his 23 albums. Farhan ali has delivered Noha Khuwani & Munaqabat in different languages like arabic, Persian, English and Hindi Bangali.
Biography - Farhan Ali
Phone: 0300 2459063
Facebook: @FarhanAwarisOfficial
Website: http://www.farhanaliwaris.com/
Email: aliwaris_9@hotmail.com
Residency: Karachi, Pakistan
Date of Birth: 4th October,1982
Birth Sign: Libra
Siblings: 4 Brothers
Details about Farhan Ali Waris:
Farhan Ali Waris is nick name of Syed Shujat Rizvi, born on October 4th, 1982. His father's name is Syed Mazhar Iqbal Rizvi. His permanent residency is in Karachi, Pakistan.
He has started his career in 1995. His first album was released in 1998, named "Ali Waris". In 1998, for the first time he appeared at Provincial level at Rohri. He has numbers of albums released (23 albums with approximately 300 tracks). He has achieved the award of Sitara-e-Manaqabat Noha Khawani Award presented in India. Farhan Ali has Noha Khawani & Munaqabat in different languages like Arabic, Persian, English and Hindi Bengali.
Photo Gallery - Farhan Ali